Sharing a home-cooked meal with your loved ones is a perfect way to escape a busy, fast-paced life. May these cookbook recipes inspire your next impromptu get-together.
---
PERCIATELLI WITH BROCCOLI RABE AND ROASTED GARLIC CREAM SAUCE
I love serving this decadent meal in the cool fall and winter months with a glass of wine and a slice of crusty bread. Thick noodles work especially well here, as they are able to really grab hold of the rich sauce.
Broccoli rabe adds a hearty freshness to a very rich dish. Although using whole roasted garlic cloves might seem aggressive, roasting brings out such a sweetness that it is not at all overpowering.
INGREDIENTS
1 head garlic, top quarter sliced off and discarded

1 tsp olive oil
4 tbsp (56 g) butter
3 tbsp (24 g) all-purpose flour
1 cup (240 ml) whole milk, or more to thin the sauce
¼ cup (25 g) shredded Parmesan cheese
¼ cup (62 g) ricotta cheese
½ tsp salt (optional)
1 bunch broccoli rabe, thick stem bottoms removed
Red pepper flakes (optional)
Pasta
1 tbsp (15 ml) olive oil
1 lb (454 g) thick pasta such as perciatelli
---
SPINACH SALAD WITH QUINOA, TOASTED PISTACHIOS, AND CRANBERRIES
My husband is not a fan of olives, so this salad is reserved for nights I'm cooking for just one, or when I host a weekend girls' brunch.
The colors are bright and vibrant and the flavors stand up on their own, but also pair nicely with other dishes. Cerignola olives are plump and buttery and impart such a lovely, subtle
briny flavor to the dish. If you can't find the Cerignola variety, use what you love and can easily locate.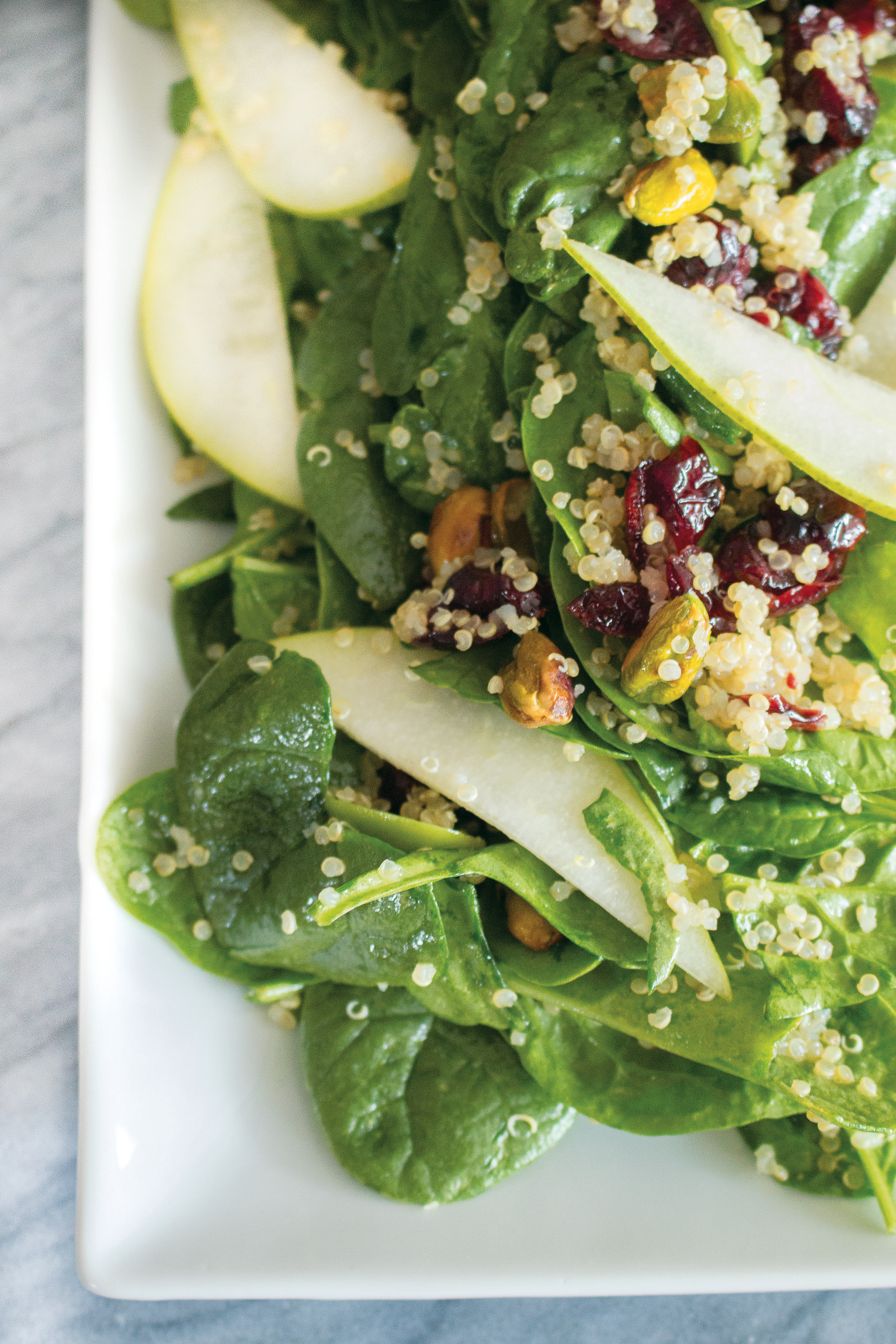 INGREDIENTS
Lemon Vinaigrette
¼ cup (60 ml) olive oil
Juice of 1 lemon
2 cloves garlic, pushed through a 

garlic press or very well minced

¼ tsp salt (or more to your taste)
Salad
¼ cup (43 g) quinoa
1 cup (240 ml) water
½ cup (69 g) shelled pistachios
10 oz (280 g) baby spinach
1 medium Anjou pear
½ cup (61 g) dried sweetened cranberries
½ cup (67 g) pitted and sliced 

Cerignola olives

Salt to taste
Tip: Getting the garlic really finely minced or crushed will help the flavor dissipate so that instead of biting into a piece of raw garlic, the salad is nicely seasoned with a garlic essence.
---
WILTED GREENS AND SAUTEED MUSHROOM CROSTINI
This is an ideal recipe to serve to cocktail party guests—it's simple, delicious and very easy. I prefer to use rainbow chard because the colors are so vibrant, but you could use any hearty green that you have available.
Butter and olive oil create a perfect base to cook the mushrooms and the garlic, while wine parsley bathe the mushrooms in such incredible flavor. I could eat this dish for days!
INGREDIENTS
3 tbsp (42 g) butter, divided
2 tbsp (30 ml) olive oil, plus more for drizzling
8 oz (225 g) sliced cremini mushrooms
2 cloves garlic, minced
¼ cup (60 ml) white wine (I like to 

use Sauvignon Blanc)

4 tbsp (16 g) fresh parsley, divided
1 cup (30 g) chopped rainbow 

chard, thick center stems discarded

1 baguette, sliced
For the full recipes and 80+ more to inspire your next dinner party, check out Megan's cookbook: Great Meals with Greens and Grains.
 FOOD IMAGES: MEGAN WOLF // HEADER IMAGE: BROOKE LARK
---
Megan Wolf, MS, RD is a NYC-based private practice Registered Dietitian who specializes in women's health and weight management. As an avid cook, recipe creator, and cookbook author, Megan believes that there are no limits to life when you are enjoying delicious, nourishing foods with those you love. To create your healthiest life, connect with Megan at Megan Wolf Nutrition.